Motocross – everything you need to know to get started
The best way to start playing tennis is to buy a racket, have a partner to play with, some balls, and a court nearby. You'll be terrible at first, but with time, practice and maybe a few lessons, you get the hang of it and decide if you want to continue with it or try another sport.
In many ways, you can have the same basis when it comes to offroad sports.
But it's one thing when you're a kid and your parents help and encourage you to ride. Another is being an adult and discovering the sport on your own, with your friends or family who rides finally convincing you to give it a try.
So where to start?
Like any sport, you need to jump in and make some investment. But unlike tennis and some other recreational hobbies, it's not as simple as buying a $200 racket and a tube of balls at the sporting goods store.
Understand the commitment
Riding is not like any other sport. You will be riding a powerful, fuel-powered machine. It is also quite expensive and consumes a lot of your time. Some motorcycles cost as much as cars – if not more, and all require a lot of maintenance. It's not for people who live paycheck to pay. It's not for very slow people who will stall around corners. After a long day of riding, the bike requires a lot of cleaning and possibly oil and fluid changes. Add more kilometres travelled and you'll have more maintenance and time on top of that. And then the inevitable accident. Even a hit can cost you thousands of reais in parts replacement.
Starting a new day in the comfort of the backyard probably isn't going to happen. You'll need a trailer, van or pickup truck (another possible investment) to get somewhere to drive. If you live in the city centre, that means at least an hour or two driving there to spend the whole day. This can be very boring for most riders – a tedious process that results in just a few hours of fun.
Lastly, you need safety gear and it doesn't come cheap. Buy a helmet, boots, gloves, glasses. You can even wear a pair of jeans and a jacket at first, but soon you'll need a motocross outfit – which will give you more comfort and protection.
And then you fall. Sooner or later everyone ends up getting hurt. In the beginning, it's just sloppiness, cramps and minor bruises. But as you enter the community, you hear stories of broken bones, branches stuck in your legs, concussions, etc. It could happen to you.
Beg, borrow or buy a used motorcycle
You will definitely want to trade in your XR 200 for a brand new KTM 450. But if you're like most people starting out in this new hobby, you'll soon find that enthusiasm eventually dwindles to a reasonable level and driving every weekend turns out to be more difficult – especially after a 40-hour week worked. In a short time, your motorcycle, worth at least R$50 thousand reais, is parked in the garage.
Instead of investing that big amount of money, or even half of it, borrow a friend's bike (if he's authorized) and start going out on a bike as small as 150cc. A 450cc bike is extremely powerful and even a 250cc bike can make you scrape your back on the ground. First impressions are the ones that stay, and if you start with a good impression, it will certainly last a long time in the offroad world.
If your friend wisely refuses to lend you the bike, there are other options you can try. Look on the internet for some suitable places to rent a motorcycle or a training centre that can give classes by borrowing the motorcycle.
You can also buy a used motorcycle. Spending R$3k on an XR 200 or R$12k on a used CRF230 is already much more sensible than paying R$50,000 on a brand new motorcycle.
don't drive alone
If you're as new to motocross as the article assumes, then you shouldn't even know how to start the bike, let alone ride one. If you are completely alone on this adventure it is highly recommended that you look for a pilot school. Otherwise, get experience from a friend, neighbour or family member who can help you with these first steps.
Make trails
Forget motocross tracks (at least while you haven't taken classes yet). You won't be able to get a double jump anytime soon, so there's no reason to risk an injury before you've even started to really enjoy the sport. Go hiking. This will allow you to drive at the pace you are comfortable with and with prudence, it poses less of a danger than the corner of your coffee table.
All activities and hobbies require investment. Motocross is at the top of the investment. If riding isn't your thing, forget about it and go for it. But if you fall in love with adventure, get ready for a new world full of emotion, where you'll have so much fun riding and taking care of your bike.
Jett Lawrence's Off-Camber Stall-Out at 2023 Fox Raceway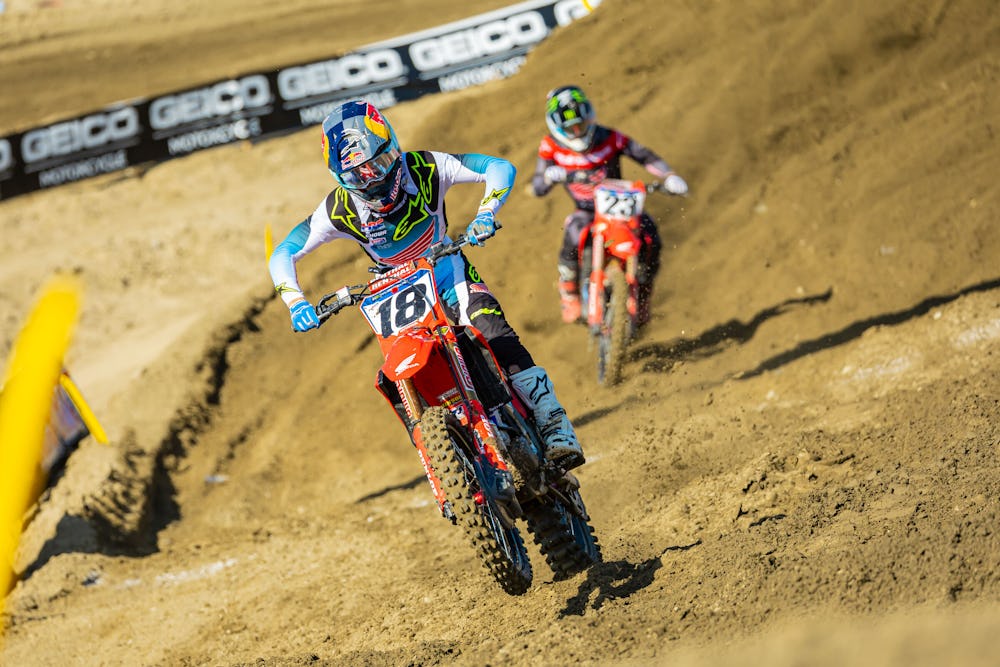 Welcome to Save of the Day presented by Mips where we will be highlighting close calls, salvage rides, or comeback performances from each week of the 2023 AMA Pro Motocross Championship.
At the Fox Raceway National, Jett Lawrence was just about flawless all day but it nearly came unglued with two laps to go in 450 Moto 2 when he got stood up in the off-camber before the uphill. He was just able to keep it beneath him and continue on before sealing the deal on a 1-1 performance for his 450 class debut.
Video courtesy of Peacock.
This video is presented by Mips, a global leader in the field of helmet-based safety and protection backed by more than 25 years of research and development. Helmets with the Mips safety system can be found on many of the elite motocross racers and athletes around the world. Look for the yellow dot on the back of a helmet and head over to mipsprotection.com for more information.
MOTOCROSS ACTION MID-WEEK REPORT – Motocross Action Magazine
Privacy & Cookies Policy
Jason Thomas Recaps Key Takeaways from 2023 Fox Raceway Motocross Opener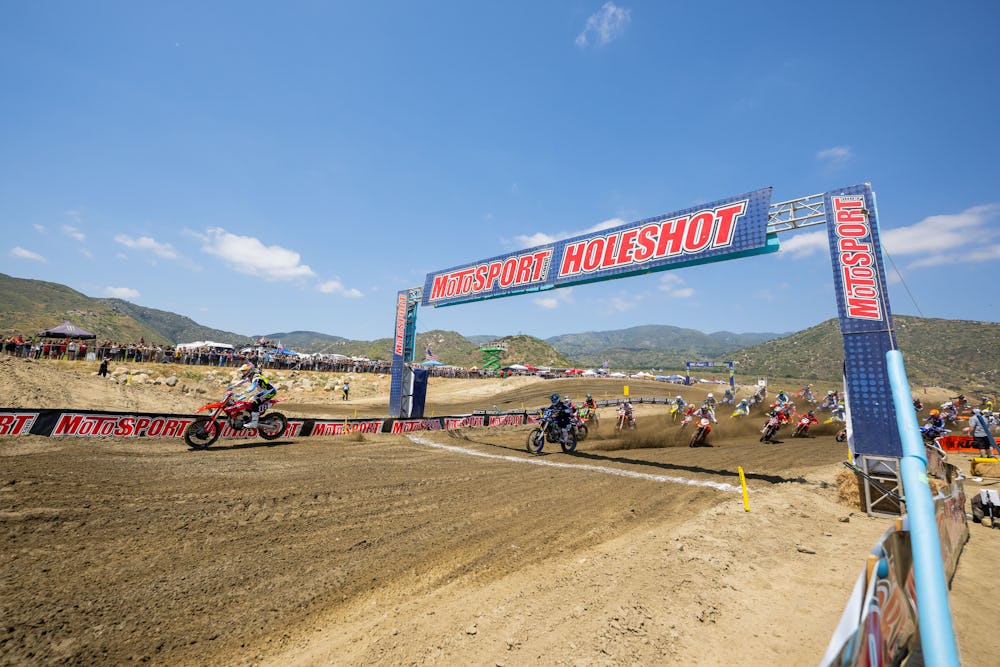 The 2023 AMA Pro Motocross Championship kicked off over the weekend and there's plenty to talk about, including Jett Lawrence's dazzling 450 debut, RJ Hampshire's wild day, Hunter Lawrence's win, and more. To get an inside look at the action we tapped former pro Jason Thomas to break down the first race of the season.
What was your initial take on the 250 Class, in terms of who impressed?
Jason Thomas: I believe it delivered as advertised. We knew it would be a deep class with a great chance for parity all the way to the top. I thought RJ Hampshire's first moto was a great sign of what he is capable of. The second moto was unfortunately a warning sign that the variance is still present. He is fast enough to win this championship but the crashes have to be minimized. Not only are they too damaging to his points each weekend but crashing leads to injuries, and that's simply a numbers game. Crash enough and you'll eventually find yourself on the sidelines.
Hunter Lawrence came in as my personal pick to win the title and he didn't disappoint. His 3-1 score was more of the same after the best supercross season of his career. He looks like he's in the zone right now and truly believes he's the best guy.
The other rider I wanted to mention was Haiden Deegan. This is his third AMA Pro Motocross race and he looked like a veteran. He overcame a crash in the first moto but his third in the second moto is proof he isn't just a supercross specialist. He seems to have the total package: fitness, speed, equipment, and a gigantic social presence. The sky is the limit for that kid.
Guys were crashing all over the place. Name someone who avoided the mayhem and killed it out there who we might not have noticed on the broadcast.
Guillem Farres turned in an 8-5 score and didn't get the credit he deserves. With the storylines unfolding and constant change within the top ten, it was difficult to focus on every quality performance turned in. Farres wowed all of us at Budds Creek last year but that was no fluke. A relative unknown from Spain who got his shot on a factory bike is making the most of it. Kudos.