Vital MX Pit Bits: 2023 Tampa Supercross – Motocross Feature
Military appreciation night brings out the best in some designers. Between the bike graphics and gear, it's always a drool-worthy trip through the pits. This year's edition was held in Tampa, Florida, for round five of the 2023 Monster Energy Supercross season. Scroll down and enjoy.
This week's opening ceremonies had a little extra focus on honoring our armed forces, along with the men and women who have served.
Mitch Payton's Pro Circuit squad has always been one to go heavy on a theme for Military night and this year's version didn't disappoint.
Aluminum and rivet themed, like a WW2 fight plane or bomber.
Caution labels and Pin-up girl included.
Even on the front fender.
It's the little details.
Sadly, the Star team didn't participate in 2023 on either the 450 or 250 side.
Eli's brother Gregory is a member of the armed forces but is actually an Air Force pilot. This year. Eli went with the Blue Angel's theme again, similar to last year, but with a full helmet scheme to match.
Even after a sub-par night (by Tomac standards), Eli holds the red plate going into Oakland…by two points over Chase Sexton.
Speaking of Chase Sexton, he was also laced up in a Blue Angel's themed Alpinestars kit.
After the main event, Chase revisited the scene of the crime. Checking out the lines and options through the whoops, where he ultimately lost the race to Cooper Webb.
The Team Honda HRC crew killed it this year with their SR-71 "Blackbird" inspired kit.
"WARNING EXPLOSIVE POWER"
Really cool to see the Honda guys go all in by not running any red plastic on the bikes, going all black with just some red highlights.
Hunter's machine.
Sponsor logos were tweaked for the weekend and moved about.
Team MXoN headband coming back into play.
The crew from Fox Moto went with a really unique gear theme. Instead of the usual camo or military green colors, they went for gear that emulates the look of a thermal scanner…like a weapons system that could use to find targets. It's a little out there but total A+ for creativity and doing something different!
Christian Craig's version to meet some sponsor requirements.
The Rockstar Energy Husqvarna crew participated with a white/snow camo design.
Other side.
Some small details stashed in there.
Cooper Webb was in a more traditional military olive colored Thor gearset.
Dog tags on point with his dad's name onboard.
Little bit of digital came sprinkled in.
Some red, white, and blue.
And all the branches of the forces represented.
The HEP crew had two teams and two themes to work with in Tampa.
The Twisted Tea side of the tents and SKDA mixed a snow camo with the shark teeth design made famous by the P-40 Warhawk.
Closer look at the P40 teeth design.
The Progressive Insurance side of the team went with a simpler design but with some cool details.
Kenny also rocking the Fox Thermal kit.
The look on Max Anstie's face when he sees sand on a Supercross track.
The Firepower Honda went all white for the evening with their 250s.
While SKDA mixed a lot more grey into Deano's Firepower CRF450R.
Chance Hymas was one of the Fly riders rocking their new LE kit which fit the night's activities and is also available to the public starting now.
Custom Upfits brought out their sidecar Pro Circuit Kawasaki KX250, which they've been using to give injured Veterans a chance to ride around a motocross track again.
Jeremy Martin and the ClubMX team had gear and bikes dialed in for the weekend.
The ClubMX crew went full plastics and graphics on their setup, going with a desert plastic design and some traditional camo.
Fort Bragg is located in North Carolina, about two hours from ClubMX's facility.
Team Tedder was dialed in as well.
We noticed a change on Haiden Deegan's bike after his first pro weekend.
After mentioning last weekend that Haiden was running WCL engine mounts, he's swapped back to stock now, similar to Jordon Smith's machine.
Willy Wonka sighting.
It sounds like Joey Savatgy will be continuing with Rick Ware Racing for the rest of the 2023 Supercross season, after an initial eight-race deal. We also hear that RWR would like to lineup with two 450 riders and a full semi in the 2024 Supercross series.
Jason Anderson completed the Blue Angel's Alpinestar trio in the 450 class.
Aaron Plessinger is giving KTM more and more reasons to re-sign the moto redneck for the 2024.
Alex Ray is set to have surgery this week. Get well soon A-Ray.
The emotions post race…and post almost win… See you all next week.
Source link
CLASSIC MOTOCROSS IRON: 1971 YAMAHA DT1 MX
2023 Hangtown National Best Post-Race Show Ever Video Highlights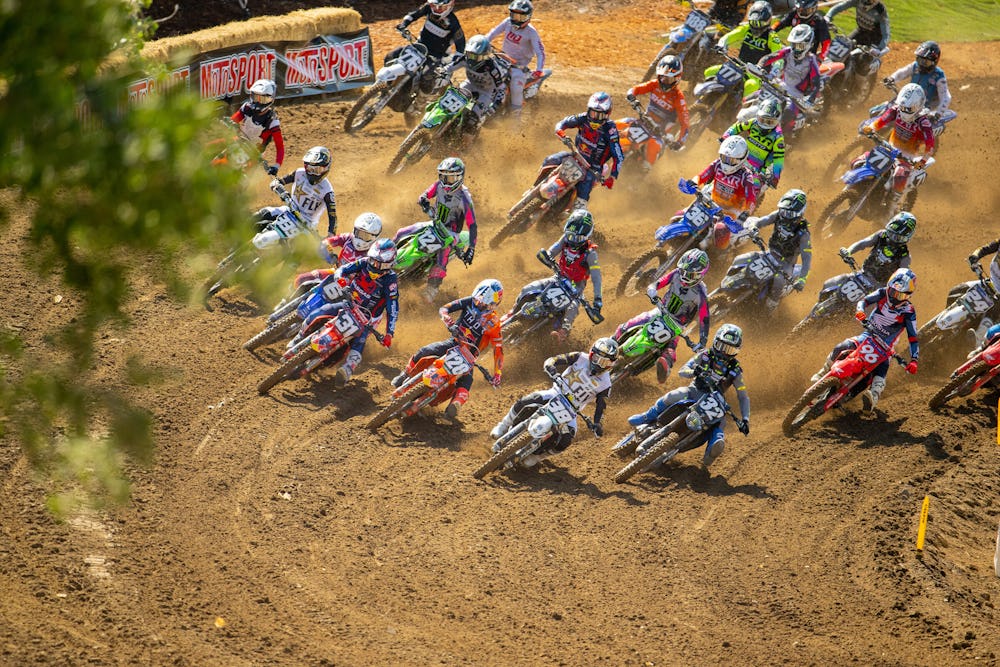 Twisted Tea backs our coverage of the Best Post-Race Show Ever from the 2023 Hangtown Motocross Classic. It was a hot one in Hangtown and Jett Lawrence brought the heat again as he went 1-1 in the 450 class, but the stories are flowing throughout other parts of the series. Jason Weigandt and Kellen Brauer break it all down with Jose Butron, Lorenzo Locurcio, Kyle Chisholm, and Fredrik Noren.
Film by Tom Journet.
Twisted Tea is Real brewed Tea with a Kick! If you want to hang at the Twisted Tea factory Suzuki hauler like I do, visit TwistedTeaMX.com and enter to win a VIP experience this summer at the Pro Outdoor series from our friends at Twisted Tea. Keep it Twisted!
Visit www.twistedtea.com.
*Must be 21 or older to purchase.
Vital MX Post-Race Show | 2023 Hangtown

Lewis Phillips and Michael Lindsay bounce onto microphones to chat spherical two of Professional Motocross…


Resource backlink