Race Report from the 2023 Houston Supercross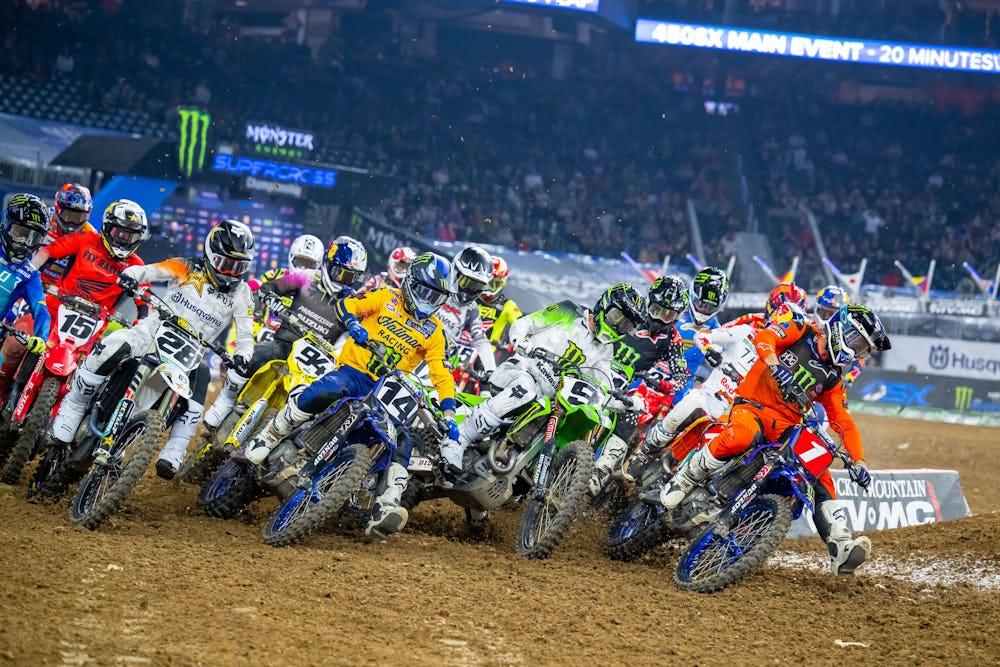 Anstie was left to settle for second on the night, but second was huge for him in his first 250SX race in nearly a decade. Despite losing touch with Lawrence out front, he kept Vialle at bay behind him to the tune of a few seconds before Vialle actually fell from third and then Anstie held a comfortable gap over all the battling behind that. It certainly looks like Anstie is ready to contend for a title in this 250SX class.
"Honestly, it's a dream," said Anstie. "I've waited a long time to be up here and go up those steps up to the podium. My very first year in supercross, 2010, I was 16 years old, and I nearly got a podium then. The next year I went to Europe and didn't come back. I got into that over there and I had success. I'm lucky my family supports this because it's a big move. It's a great feeling to be up here and be competitive. Every day I wake up trying to figure out how can I get through whoops, or how can I get through that on-off better. I really enjoy motocross too, but it got to the point where I knew where it was gonna be. I've ridden with the Star boys a few times and they normally smoke me. I was just hoping for a top ten. I honestly looked at the top of the board, I looked around fifth and I didn't see my name, I didn't realize I was in first."
As mentioned, Vialle was in third behind Anstie for a long time before he missed his brakes after the supercross triple late in the race and went down on the top of a berm. As he slid back, that allowed a battle between Jordon Smith and Muc-Off/FXR/ClubMX Yamaha's Jeremy Martin for the final spot on the podium. It looked to be all Smith's, who had recovered from a tip over in the sand to catch and pass Martin, but Martin made a late charge. As they went through the whoops side by side on the last lap, Martin clipped a lapper and got sideways before coming to a dead stop and stalling the bike. That gave Smith plenty of time to cruise it home in third.
"Yeah, the sand tonight was pretty treacherous," said Smith. "They built those big rollers, and you felt like you never got to the bottom of it. Been a long time since I rode something like that, not doing outdoors last year. Honestly, I felt pretty good in it in the main event until I went down there. I felt really good all day, maybe the most comfortable I've ever felt in supercross."
Podcast: Michael Leib Talks About Canvas MX, Future of Motocross Gear
FLY Racing is charging into 2023 with improvements to both style and performance. Led by the industry-leading Formula helmet featuring RHEON Technology, FLY Racing has become synonymous with innovation and outside-the-box thinking. FLY Racing has the widest product range in the sport, ensuring you can find exactly what you're looking for. In short, FLY Racing embodies all things motocross. Check out the new line at FLYRacing.com, @FLYRACINGUSA on social media, and our athletes at Monster Energy AMA Supercross and AMA Pro Motocross Championship events in 2023.
In this episode of the Fly Racing Racer X Podcast, I call up former pro Michael Leib to talk about his gear brand, Canvas MX. We discuss the possibilities for them, signing some pro riders, the future of MX gear, working with other gear companies, Ryan Villopoto, Leib's own pro career, and more.
Listen to the Leib podcast file directly or get it from Stitcher, the PulpMX App, or your local podcast player.
Turkey on the road #motorcycle #accident #fail #bikelife
Resource
Dakar Classic: The passion for rallying is timeless Dakar: The adventure of a …
Dakar Classic: The passion for rallying is timeless ⏳
Dakar: The adventure of a lifetime, the taste of the extreme 👊
What's next ?! 🔋
Comment with your ideas ⬇️
#Dakar2024 داكار كلاسيك: شغف الرالي لا ينتهي ⏳
داكار: مغامرة العمر، نكهة مختلفة 👊
فماذا ينتظرنا بعد ؟! 🔋
شاركونا أفكاركم في التعليقات ⬇️
#داكار2024