Podcast: Eli Tomac's Place in SX & MX History After 48th 450SX Win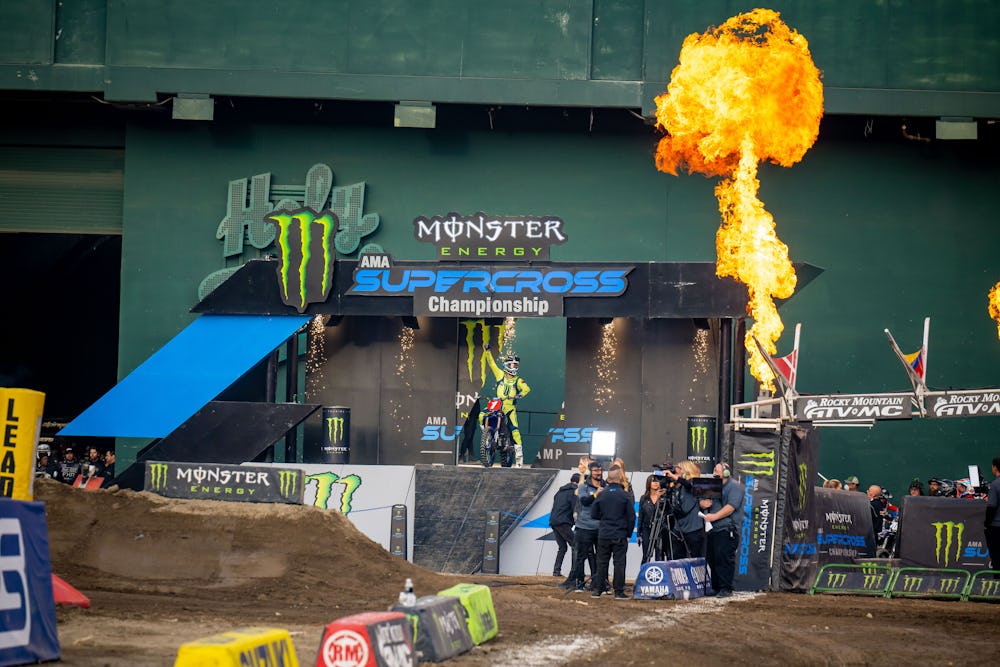 Eli Tomac is enjoying the career renaissance his predecessors at the top didn't get. Instead of retiring on top, or retiring when he lost his titles, Eli kept going, reinventing himself with Yamaha and coming back stronger than ever. Fans now see Tomac as the living legend that he is, instead of only realizing what you've got when it's gone. He's also personally enjoying the races more than ever, and rapidly climbing the record books.
What leads to this kind of longevity? Jason Weigandt, who has watched most of Tomac's pro races in person and has interviewed him countless times, weighs in. The conclusion is that Eli's career has always been about the long game—and even the occasional "weirdo races," where he doesn't win, fit a pattern to stay safe, stay in the game, and come out all the better for it. He's reaping massive benefits now, as are his fans. Is he an all-timer? Well, as a racer, yes. But bigger than that, Weigandt wonders out loud: have Eli and his father and trainer, John Tomac, carved out the best career arc in the history of the sport? That is likely the case.
Also, Eli himself speaks via this recent interview with Weigandt and Steve Matthes. Enjoy.
The Racer X Exhaust Podcast is hosted by Jason Weigandt and sponsored by Yoshimura, Leatt, On Track School and the WD-40 brand.
Podcast: Michael Leib Talks About Canvas MX, Future of Motocross Gear
FLY Racing is charging into 2023 with improvements to both style and performance. Led by the industry-leading Formula helmet featuring RHEON Technology, FLY Racing has become synonymous with innovation and outside-the-box thinking. FLY Racing has the widest product range in the sport, ensuring you can find exactly what you're looking for. In short, FLY Racing embodies all things motocross. Check out the new line at FLYRacing.com, @FLYRACINGUSA on social media, and our athletes at Monster Energy AMA Supercross and AMA Pro Motocross Championship events in 2023.
In this episode of the Fly Racing Racer X Podcast, I call up former pro Michael Leib to talk about his gear brand, Canvas MX. We discuss the possibilities for them, signing some pro riders, the future of MX gear, working with other gear companies, Ryan Villopoto, Leib's own pro career, and more.
Listen to the Leib podcast file directly or get it from Stitcher, the PulpMX App, or your local podcast player.
Turkey on the road #motorcycle #accident #fail #bikelife
Resource
Dakar Classic: The passion for rallying is timeless Dakar: The adventure of a …
Dakar Classic: The passion for rallying is timeless ⏳
Dakar: The adventure of a lifetime, the taste of the extreme 👊
What's next ?! 🔋
Comment with your ideas ⬇️
#Dakar2024 داكار كلاسيك: شغف الرالي لا ينتهي ⏳
داكار: مغامرة العمر، نكهة مختلفة 👊
فماذا ينتظرنا بعد ؟! 🔋
شاركونا أفكاركم في التعليقات ⬇️
#داكار2024