"MY BIKE SUCKED LAST YEAR"
Privacy & Cookies Policy
ENZO LOPES INTERVIEW: PRIVATEER SITTING 3RD IN 250 WEST POINTS

report this ad
Privacy & Cookies Policy
Jo Shimoda, Jordon Smith, and Cullin Park on Nashville SX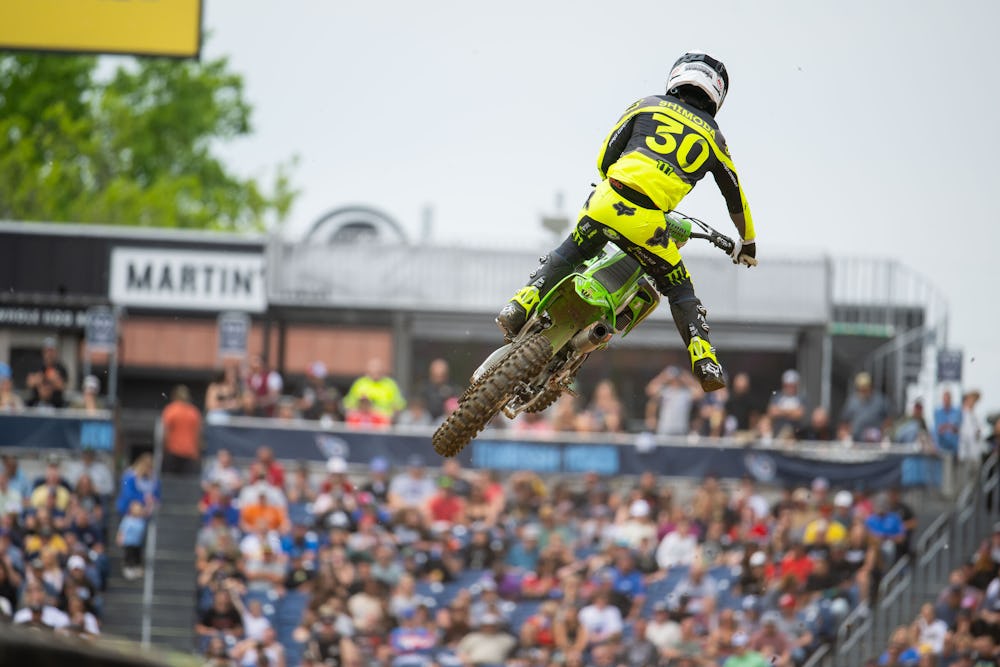 You mention those mistakes. Have you worked with anyone on the mental side, or is it just race technique?
I haven't worked with anyone like a mental coach or anything like that.  Yeah, it's just, in 2017, 2018 I hardly ever crashed during those two years. It's just been, the last few years, it was just lack of seat time. Just showing up to the race and trying to race the best guys in the world when you've hardly been racing. It's like showing up to play golf against the best in the world, and you only play golf twice a year, and you think you're gonna play with the PGA Tour guys. Except, in golf you just hit the ball out of bounds, but here we go crashing on a jump and you're down and hurt again. [Laughs] So, yeah, just trying to get back to feeling comfortable on the bike and feeling comfortable again.
Park said the following to our Aaron Hansel in the media scrum.
Racer X: Cullin take us through it.
Cullin Park: Man, it was a struggle in qualifying, ended up tenth. Went to the heat race and felt pretty good and was trying to work my way up after a bad start and got in a pileup. I was in 15th, and I thought I might be in the LCQ for the third time in a row! I came back to eighth, which is okay, but I did ride good. I was pretty happy with the riding, and come main event I was like, "Okay, it's time to go." I didn't get the best start and was working my way up and was up to ninth with about three laps to go. Then I made a crucial mistake and got passed. Pretty embarrassing of a day. I've made a step forward this year and I want to get into the top five. I fell super short of that today. No one to blame but myself, I was just off from the get-go. You know what though? I have a weekend off and I'm really looking forward to closing out the season strong in Salt Lake.
Correct me if I'm wrong, but it seemed like today was tough to get a bike dialed in with the conditions changing so much.
It was completely different conditions all day. It started out muddy, then by the main event it was super dry and blue groove. Like you were saying, I kind of chased that a bit today. I was just off, it was just one of those days. It's a bummer. I had a lot of friends and family here. Getting tenth just isn't cutting it for me.
Well, at one point you would have been pumped to get in the top ten, right?
For sure. Last year if I would have gotten a tenth, I would have felt like it was a win. But now, tenth isn't what I'm working for. Seventh was my best this year and I wanted to get another career best tonight. I was looking to get sixth or fifth. I just didn't put myself in a good position in the main event and I didn't execute like I should have.
Was the track more difficult than it seemed like it would be on track walk?
Oh, for sure. We all kind of did the same thing. The pack of guys I was in, we all did the same lines, the same rhythms, so making passes was hard. That's something I need to work on. I'd catch someone and hang behind them for way too long and end up ruining my own race. I think, had I made some quicker passes, I maybe could have broken away from the group I was in and maybe even caught the next group of guys ahead of me. That's on me. But you know, as bad as the day was, now that we're talking about it, I definitely learned a lot. You learn on your bad days and I'll go back and work on the stuff I know I need to work on for Salt Lake.
How often do you encounter situations like this? Red light runners can cause ser…
How often do you experience scenarios like this? Crimson light runners can induce critical challenges.
Resource