The older we get the more we notice how it's more of the little things in life that mean the most to us. There is something that has been in my life since I was 4 and was a huge expense to my parents, but it also has meant the world to me. Motocross is one of the biggest parts of my life and still something I will continue to do until I possibly cannot and will pass it down to my kids one day. But now that I am older and have taken over the financial side of the sport I realize how expensive it all is for such a sport.
There is always going to be a "bad side" to anything that we do in life. With motocross, it seems to be a very steep money mountain to climb. For starters, there is the bikes that you ride, protective gear, and the parts for the bike that will cost anywhere from 5 thousand dollars as a young kid to 15 thousand when you have the bigger bikes. Along with those costs you will also be paying for the gas to travel to the races, the fees to get into the races, and hotel or camper fees if you have a camper. As the bad side goes for a sport that is the financial side of motocross. These costs add up over years of getting new bikes, gear, and parts. These could put a toll on you and your family financially.
Though there is a major negative side to motocross, I must say the great part of motocross is the parts big and little in life it will give you. As I said before I have been racing and riding dirt bikes since I was 4 years old. This sport has been a huge part of my life and will be for the rest of it. Motocross is the part of me that will always bring out the adrenaline junkie and the little kid that is trying to fly and be just like he imagines the superstars are. Motocross has given me the feeling of flying and the crushing sensation of being driven into the earth at a high rate of speed. These feelings good and bad are something I would never trade for anything. There is nothing more freeing that being out on your bike whether it be on a track, trails, or just out in the middle of some open field and being able to go where you want or as fast as you want. The feeling that you feel as you fly 50 feet off the ground and for a 150-foot distance is like nothing else. It's almost as if I have motocross running through my veins and I only feel this good and clear when I am on my dirt bike. After you ride so long you feel as if the bike is an extension of you. There is always the big feelings of winning races or championships but these feelings that come over you when you ride mean the most to me.
Another rewarding aspect to the sport is getting to see little kids grow and love the sport as much as I did growing up. It is always so nice to be able to help the younger generation improve by giving them tips or helping them overcome their fears. Motocross has a special way of connecting all your family and friends. Not only does your family grow closer, but with this sport you can become closer with everyone in the motocross community as you travel, ride, and compete with them. Motocross is something that brings everything out of you and lets you grow as a person and that is worth every penny to me.
Source
by
Weston Payne
CLASSIC MOTOCROSS IRON: 1971 YAMAHA DT1 MX
2023 Hangtown National Best Post-Race Show Ever Video Highlights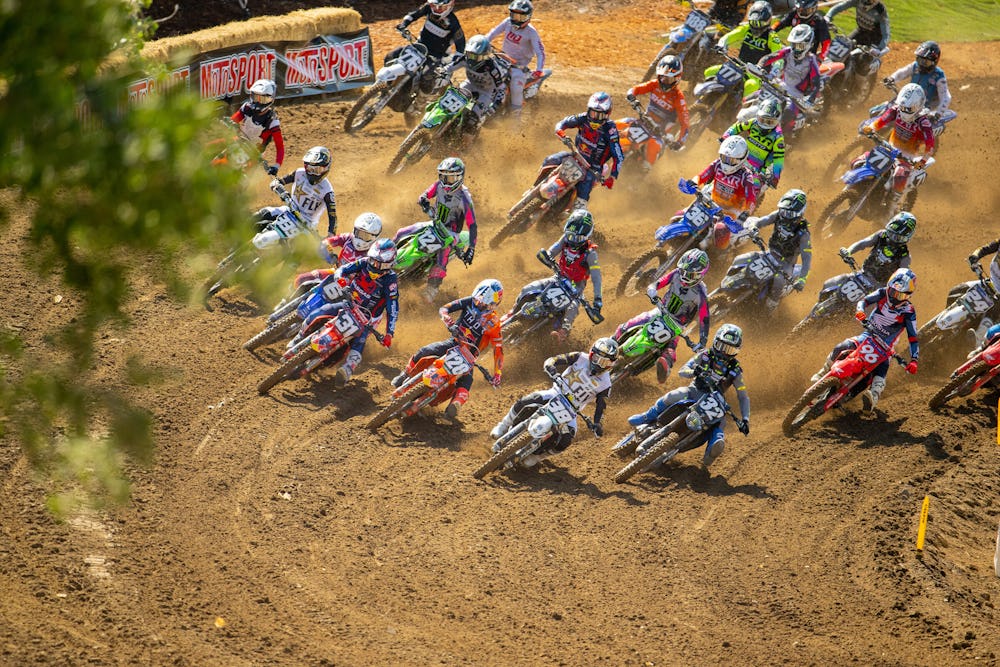 Twisted Tea backs our coverage of the Best Post-Race Show Ever from the 2023 Hangtown Motocross Classic. It was a hot one in Hangtown and Jett Lawrence brought the heat again as he went 1-1 in the 450 class, but the stories are flowing throughout other parts of the series. Jason Weigandt and Kellen Brauer break it all down with Jose Butron, Lorenzo Locurcio, Kyle Chisholm, and Fredrik Noren.
Film by Tom Journet.
Twisted Tea is Real brewed Tea with a Kick! If you want to hang at the Twisted Tea factory Suzuki hauler like I do, visit TwistedTeaMX.com and enter to win a VIP experience this summer at the Pro Outdoor series from our friends at Twisted Tea. Keep it Twisted!
Visit www.twistedtea.com.
*Must be 21 or older to purchase.
Vital MX Post-Race Show | 2023 Hangtown

Lewis Phillips and Michael Lindsay bounce onto microphones to chat spherical two of Professional Motocross…


Resource backlink