Eli on top A dangerous place for the defending champ to be after round 1&#x20e3…
Eli on prime 📈 A hazardous location for the defending champ to be just after spherical 1️⃣ 🔥 How does the rest of the field reply in San Diego❓ Hyperlink IN Story for the hottest SMX Insider episode with McGrath, Carmichael and Villopoto 🤩 #SupercrossLIVE #ProMotocross #SuperMotocross

Supply
Catching Up With Mickael Pichon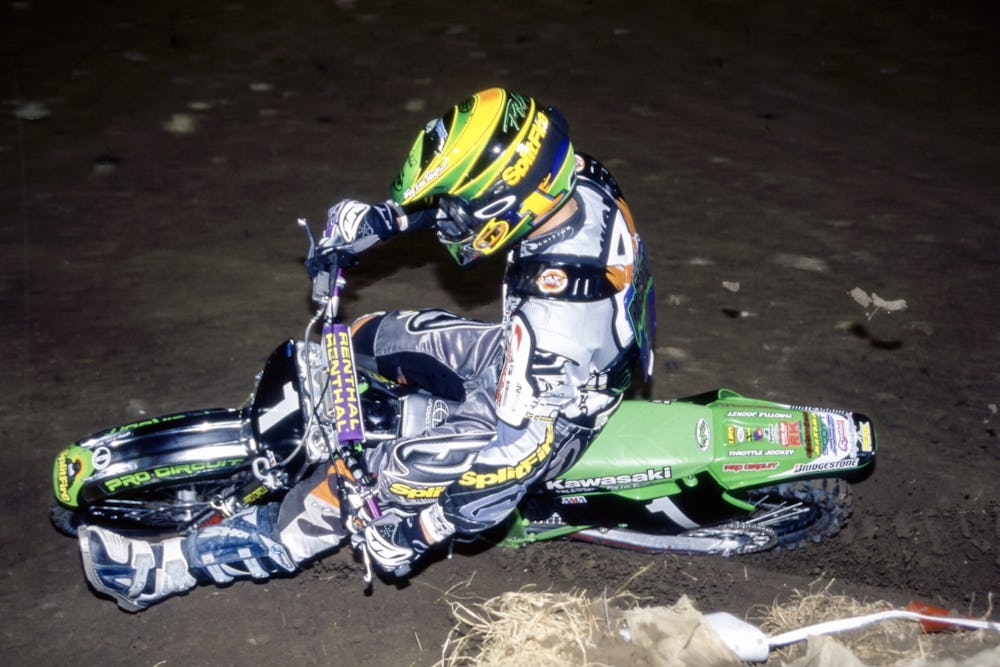 Congratulations. He won the world enduro championship, Zach. He tried motocross for a little bit and then enduro. How does Zach move from motocross to enduro?
No, actually when he was young, when he was like eight, nine years old, I rode for three years the French enduro championship. I was French champion on the 450 class two times. I also rode on GP. I won the first day in the French GP. I think it was back in 2009 or 2010. He really enjoyed following the races. He was always coming with me at the races and he really loved it. Since he was riding, we always had this on the back of our minds to go maybe one day move to enduro. Then as an old racer of MX, I love MX. MX brought me everything. But when you are parents and your kids are riding motocross or supercross, you have to be honest. It's kind of scary. So, me and my wife, we love to watch him ride motocross, but we tried to push him to go to enduro as soon as he could. But to get better, to improve your speed and your fitness and everything, motocross was a really good school. Then as soon as he had the chance to get a good deal to go in enduro, we made the move last year with Sherco factory. He did really good, so we are pretty happy about that.
I saw him at Paris SX, doing some laps on the supercross track there. So, that was fun. I don't know if you know the GNCC series over here. Is this like that, or is it like time keeping? Like real enduro where you have time keeping and you have time checks and all that?
I know in the U.S. you don't have the same kind of races. The GNCC, we have this in France but not in Europe. The world championship enduro, you have to ride all day. You go from 9:00 in the morning to 4:00 or 5:00 pm. Then you have three special tests, and you have three laps to do, three big laps. Maybe about two, two and a half hours lap. You have a special test. Sometimes the special test goes from five minutes to fifteen minutes. So, you have a total of about one hour for the whole day. But in-between the special test, of course you have to be on time to checkpoints, and then you have to do your own mechanic also.
Another world champion is on the way for Pichon.
Yeah, he was junior world champion but now he's moving to the big class. I think he can do well. He can go on the E1 class, which is like MX2. I think he can get close to the podium, so we will see. But he's young. Moving in enduro, he's only 22 so he has a lot of time. As long as he loves it and he enjoys and he's improving and he makes a good living, it's good for me.
Do you go to all these? Are you back traveling to all these races again?

Yes. Last year I did, because I tried to be there to help him. When he's doing the loops every time, he has guys like me, a few guys. We follow him and we go in the special test. We see the lines and everything to help him out, to tell the good lines. Sometimes we have some helpers that are knowing you need to have the good lines to pick the good lines, and we have to help him for that. I enjoy going to the races to watch and help him out. He's riding the Spanish championship this year, but I don't go. I will go to the world championship. Next weekend is the first one in Italy, so I will go there.
You still come to America quite a bit, right? I talk to Mitch Payton quite a bit and he has told me, "Oh, Pichon was in here last week," or whatever. And then [David] Vuillemin saw you. You still come over and visit and hang out?
Yeah. Actually, I still have some very good friends there in California. Every two or three years we go there in the wintertime with the family, with our kids. Then we try to spend some good time with the sun. It's really nice being in California in wintertime for us, because here the weather is quite bad. Then of course when we go there, I try to rent some bikes for Zach and for my little kid, Lenny. Lenny is 11 years old. We go out to all the tracks in California. We love it. I love to be there because we spent five years there with my wife, Stefanie. To be honest, it's maybe the best years we had in our life. We love the place.
BREAKING NEWS Sam Sunderland out of round 3 in Sonora Rally At kilometer 24…
🚨BREAKING NEWS 🚨
❌ Sam Sunderland out of round 3 in Sonora Rally 😢
At kilometer 24, the reigning world champion crashed when he overshot a super high-speed right turn, plowing into a washed-out section of track.
Banged up, shaken up, and fortunate to escape serious injury, the GASGAS rider was quickly back on his feet but out of the event. ✋
#W2RC #FIM #SonoraRally
FIM – Fédération Internationale de Motocyclisme
TWO-STROKE TUESDAY // RICKY CARMICHAEL'S 2005 SUZUKI RM250
Privacy & Cookies Policy