Anaheim 1 Supercross Recap, Oakland SX Postponed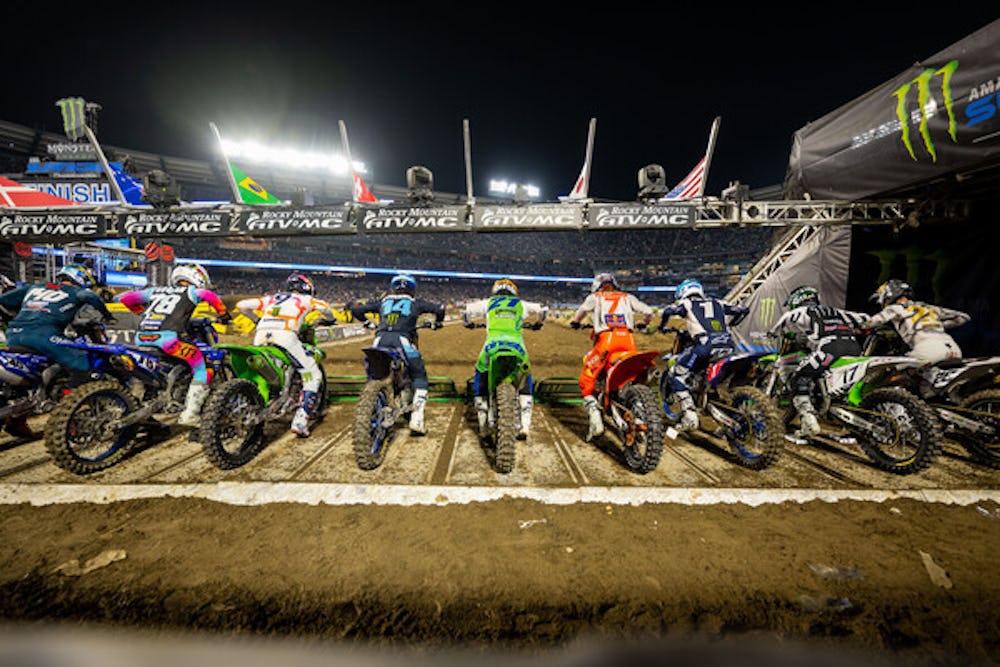 There was some buzz online that Haiden Deegan might also be lining up at the Arenacross in AZ this weekend, so we called his dad, Brian, this afternoon to find out if that might really happen. The answer is no, despite the unique opportunity to get some track time in with some very good veteran supercross/arenacross riders. Instead, Haiden is focused on doing the Anaheim 2 SX Futures race, which will run as part of the night program, and see how it goes.
"It's a really unique chance for him to be in the real setting on a real supercross, since they've moved it into the night program," Brian said. "The team wasn't sure about it, since he'll be back on his amateur bike and not the race bike he's been practicing on, but that's fine. His times on the SX tracks have been really good, so I think he'll be fine either way."
Deegan added that the team really wants Haiden to ride the East Region, and to approach it not as if he has to win, but just to get some invaluable experience.
"Haiden wants to ride East as well, but we also want him to be able to drop out if he wants to focus on getting ready for outdoors, because I think that's what we want to focus on most right now," Brian explained. He said that's been the plan in terms of really beginning his professional career, but it's changed a little since he joined Monster Energy Yamaha Star Racing and has been able to ride with the team on their SX tracks. Now the team feels comfortable with him lining up in the East, but they don't want too much pressure on him at the same time. As we've all seen before, DangerBoy doesn't really hold back, so this should be really, really interesting to watch.
I did a super cool podcast with Ohio MX legend Jeff Gibson where he talked about being given a Cannondale factory R&D ride at 19 (and all the stuff that went down with that), his Subway Honda days, racing in Canada, and winning the AX title.
Privateer Island pods this week went with the two dudes who put it into the Anaheim 1 450SX main event—and maybe some of the more unexpected dudes at that, John Short and Grant Harlan! Harlan talked about why he's on a 2022 YZ450 all season and his WSX time with Club MX, and Short discussed how he's still getting used to the new Kawasaki. Give it a listen!
You know, a lot of you guys talk mess about my lovely high desert, but we are here for you when it rains too much in Southern California! You SX guys come up to our hood because we have that loamy/sandy soil that soaks up the rain, therefore you all can ride and train. I don't want to hear about how the high dez isn't that great, but it's good enough for you pampered factory guys when it's wet out isn't it? (This is sarcasm by the way. Slight sarcasm.) On a serious note, Carson Mumford's place in Adelanto, California, has been popping off lately because of all the weather, so you know there's been some serious eye racing going on between competitors who seem to be showing up to practice on the same day, at the same track. Usually these riders are at separate tracks, but the weather forces everyone to come together and practice as one. On these combination days, some of the top riders will wait to ride until others go in for a break, but some riders—like Jason Anderson, Chase Sexton, and Adam Cianciarulo—will roll out on the track when it's thick with factory riders. It's fun to watch some of these dudes glance over on the jumps to see where the other rider is on the track, every single lap. Once a racer always a racer! To say that getting the best of a competitor on a practice day doesn't mean much would be some BS. These guys love to be the fastest guy on the track, no matter the day or place.
On another note, Carson Mumford is back riding already from the broken wrist he sustained not so long ago. He's not riding SX yet, but he is doing some motos at Glen Helen already. Most of the factory riders would prefer to be racing instead of taking a weekend off, but they also didn't want to race their dirt bikes in a lake. That usually doesn't work. See you all next weekend! Go Dolphins! Fins up! 
We read the sad news this morning that Robbie Knievel, the son of the late daredevil Evel Knievel, and himself a long-distance jumper in his youth, passed away due to pancreatic cancer. Robbie billed himself as Kaptain Knievel and rode in his father's tire tracks, though Evel was usually jumping on a Harley, while Robbie chose Honda CR500s for his stunts. He often repeated some of his dad's legendary stunts, too, like jumping the fountains at Caesars Palace in Las Vegas, or part of the Grand Canyon (in place of the Snake River Canyon). Back in 1996, during the Racer X newspaper days, we sent Danny Nappi to a no-hands record attempt in upstate New York. Here's video from that epic night:
2023 KTM 300 SX sound check


2023 KTM 300 SX sound check YT: https://www.youtube.com/c/okrmoto?sub_confirmation=1 FB: https://fb.com/okrmoto …

source
Weege Show: 2024 Team Honda and Museum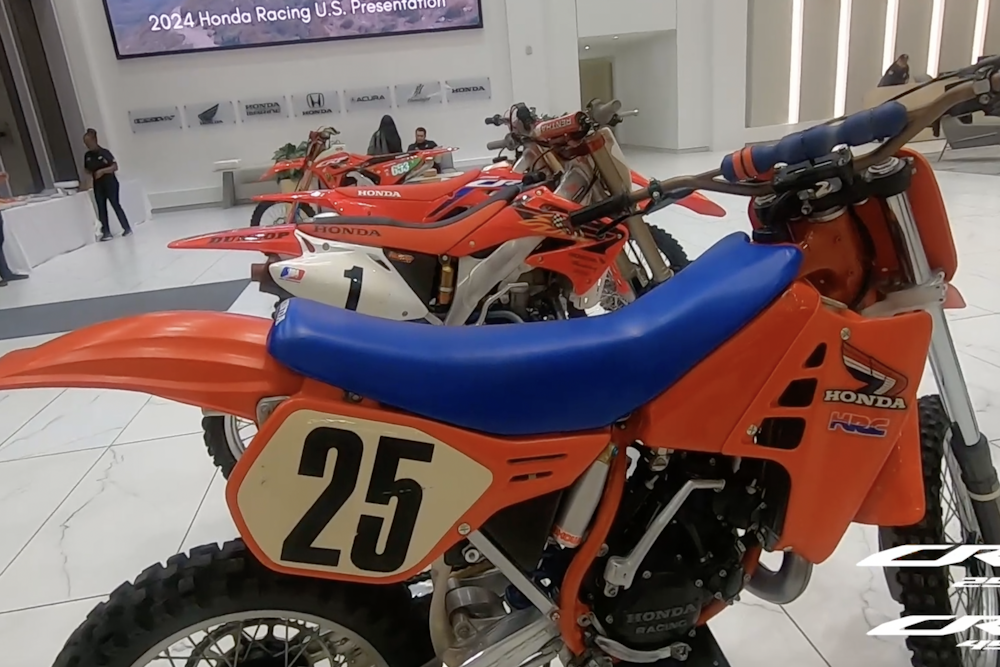 Jason Weigandt chats with Jett Lawrence, Hunter Lawrence, Chance Hymas and Jo Shimoda at the 2024 Team Honda HRC intro at the new Collection Hall, part of Honda's U.S. headquarters campus.



Source link
2023 KTM 890 Adventure R (RALLY STYLE)


2023 KTM 890 Adventure R (RALLY STYLE) Buy your motorcycle parts from AOMC.MX and support this channel at no extra cost …

source