2023 Suzuki RM-Z450 Motocross Rebuild Garage Build Video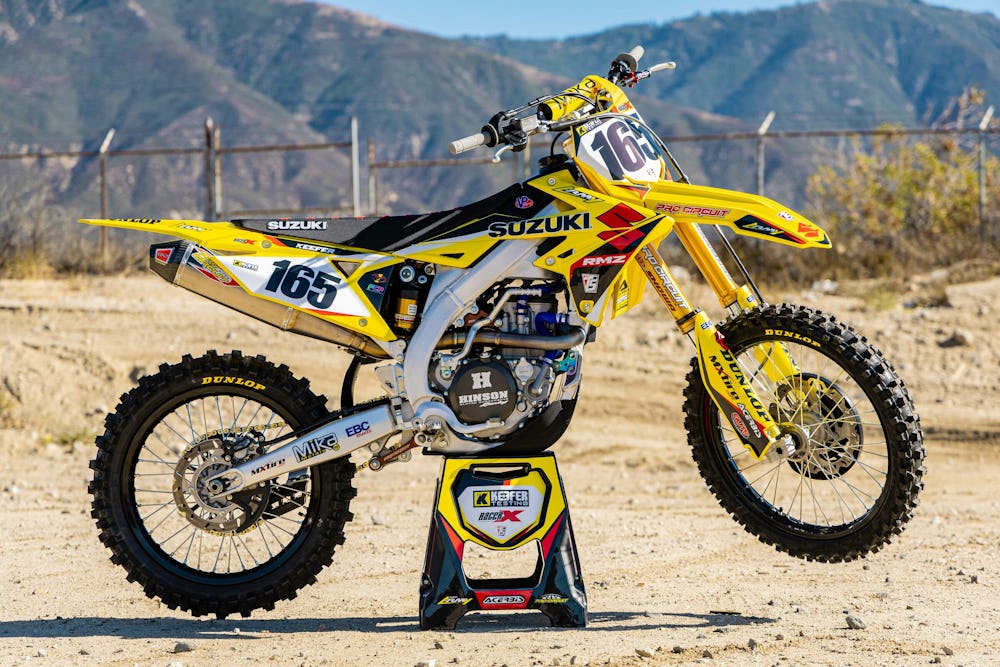 Text: Kris Keefer
Build: Ryan Pursley
Photos: Spencer Owens
Video: Spencer Owens/Simon Cudby
Just because Suzuki hasn't updated their RM-Z450 in a few years doesn't mean this machine isn't a viable option for most consumers. Sure, you still have to use your right foot instead of your finger to start it, but if you've been riding dirt bikes for a while, this isn't some horrific news. When Ryan Pursley of Throttle Syndicate told me he wanted to build himself an RM-Z450, I immediately wanted to be a part of it to see if a yellow bike could make me smile while ripping around the hills of Glen Helen.
Custom Graphic Kit, Pre-Printed Number Plate Backgrounds, Custom 3 Panel Grip Seat Cover w/Ribs
Ti-6 Exhaust System, High Compression Piston, Cylinder Head Porting, Radiator Hoses, Suspension Re-Valve and Setup, Linkage, Throttle Tube
KYB Rear Shock (RM-Z250)
Engine Mounts, Foot Peg Pins
Billet Proof Ignition Cover, Billet Proof Clutch Cover, High Performance Clutch Plates and Springs
Pro Series 996 Handlebar, 50/50 Waffle Grips Soft, Rear Sprocket (14/53 Gearing), Front Sprocket, 520 Factory Series Chain
DT1 Air Filter
Apex Foot Pegs (5mm Lower/10mm Back)
Elite Clutch Perch, Rotating Bar Clamp, Axle Block Upgrade Kit, Pro Launch Start Device, Rear Brake Master Cylinder Guard
Yellow Full Plastic Kit, Black Tank Cover, Front Disc Cover, Skid Plate, Chain Guide, 711 Bike Stand
Phantom Ultra Light Seat Foam (Tall +30mm)
270mm Front Disc, 240mm Rear Disc
MX33 Front, MX33 Rear
Stats, Vlogs, & More from 2023 Fox Raceway National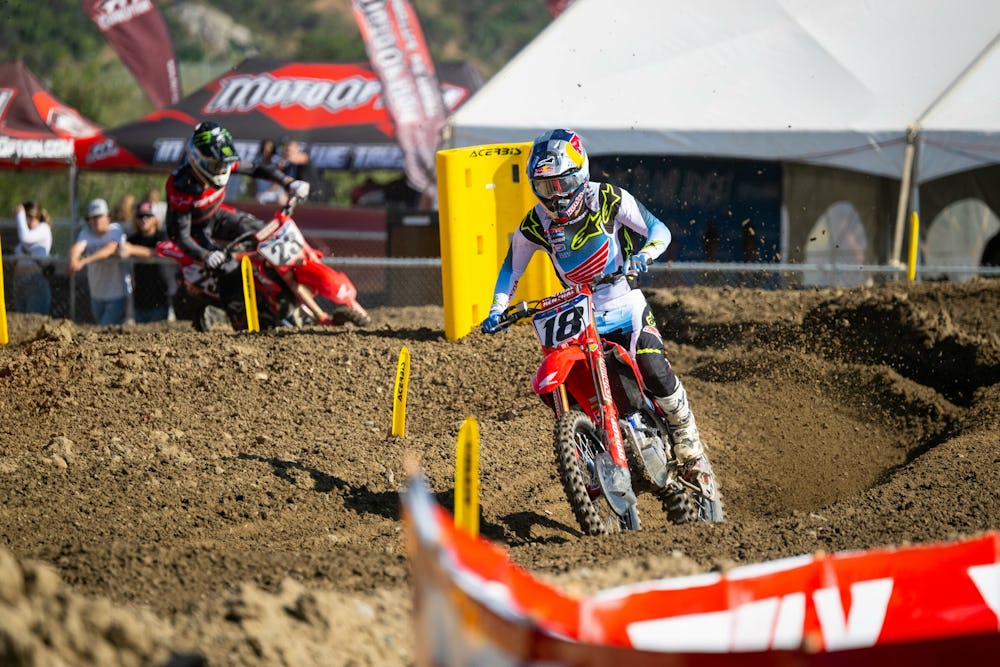 In his first ever AMA Motocross 450 Class start, Jett Lawrence went 1-1 and claimed the overall. First holeshot, first moto win, first moto podium, and first overall podium all checked off at one race! Jett Lawrence became the 75th different rider to win an overall in premier class of Pro Motocross, the first new winner since Jason Anderson won his maiden overall at the 2022 Hangtown Motocross Classic in June of '22.
Jett Lawrence becomes the first 450 Class debutant to go 1-1 in their maiden AMA Motocross start since MXGP star Jeffrey Herlings did so in 2017 and before that, Ryan Villopoto did so in May 2009.
Jett continued his streak of winning the overall at Fox Raceway at Pala—taking the 250 Class overall win in 2020, then twice in both 2021 and 2022 before now taking his first ever 450 Class start as well: an impressive six-for-six for the #18!
CATCH UP ON THE LATEST VIDEOS: 10 MUST-SEE VIDEOS
Dakar 2024 means new things A new route but above all new challenges! Give u…
Dakar 2024 means new things 🤫
A new route but above all new challenges!
💬 Give us your gold prediction!👇
#Dakar2024 #DakarInSaudi داكار 2024 نسخة جديدة تعدنا بأشياء جديدة 🤫
مسار جديد وتحديات مختلفة!
💬 شاركونا توقعاتكم!
#داكار2024