2023 AMA National Numbers – Official List – Motocross Feature Stories
It's official! Here are the 2023 AMA National numbers. Below you'll find what numbers were earned by the top riders in the sport from 2022. This list contains each career and assigned number from 1-99. If you've checked out our projection list we posted after Fox Raceway 2, then you'll see it all looks pretty familiar. Well, that's because we nailed it to a T. A big thanks to numbers guru Clinton Fowler, who bounced some of this back and forth with our staff as we got it all dialed in.
A couple of notes before jumping into the list:
New Career Numbers: Christian Craig is the only rider who earned a new career number for 2023, he has chosen to run the #28. All other riders in the top ten combined points for 2022 already had career numbers.
Six career numbers have been put on hold for their respective holders. These are:
Adam Cianciarulo #9 – Due to injuries, AC failed to score the 25 points needed throughout the year (he scored 23) to secure his usual number nine for 2023. However, the rules allow for an exemption due to injuries and it's been held through 2023 for the Florida-native.
Zach Osborne #16 – This was Zach's first year since "retirement" and since he was unable to race due to injury or lack of ride, he requested a one year extension on his number. Why? We're not sure…maybe Zacho does some farewell races in 2023? Attempts to score enough points to hang onto it further?
Broc Tickle #20 – Tickle raced the 2021 season for MCR in SX and scored more than enough points to hang onto his number in 2022. However, due to his testing gig with Kawasaki, he wasn't able to lineup at all in 2022 but has requested an extension as he plans to race a couple rounds in 2023 to keep his career number. As with Zacho's, one year out due to injury or lack of ride can qualify for an extension.
Chad Reed #22 – Reed's is the first interesting number on the list as he hasn't raced since 2020, meaning the AMA has already held his number for one extra year after his eligibility ran out. There were rumblings that Chad would race Indy Supercross in 2022 as he had just turned 40 and would be the oldest rider to attempt a Supercross main event. We believe there's a good chance Chad goes for that in 2023, so his number has been held for him one more time. There's a chance the AMA changes the number rules going into 2023 to list a maximum of a one year hold on numbers so this situation doesn't arise again.
Colt Nichols #45 – Due to injury, Nichols was unable to race at all in 2022 and as such didn't score the 25 points to keep his career number of 45. It was Nichols first year with 45 as a career number and as he was injured / unable to race all season, he falls in a one year exemption to hold his number for 2023.
Justin Hill #46 – Similar to Reed, Justin Hill hasn't raced since 2020 and already used an exemption to hold his number into 2022. However, injury also ruined his chances of racing in 2022 so he's been given one more year on his hold for 2023. Similar to our comment above for Reed, we believe there will be a rule change in the future to change this an eliminate multi-year holds.
Single Digit Numbers:
Currently, the number four and eight are vacant and the only riders eligible for single digit numbers are riders who have won a AMA National Championship in the prior season. Regional Supercross championships don't count towards this, only the 450 Supercross and Pro Motocross titles, along with the 250 Pro Motocross titles. With this, the only two rides this year who won these were Eli Tomac (who is already #3) and Jett Lawrence. This is the second year in a row that Jett would be eligible to take a single digit but has declined so he can stay with his preferred number 18.
FIM Riders Receive Numbers:
There was some confusion over wether Antonio Cairoli, Guillem Farres, and Josh Gilbert would receive AMA numbers in 2023 due to racing under a FIM or their own national federation licenses. In prior years, riders under these licenses weren't eligible for US numbers but that was changed two yeas ago. So all three riders mentioned above were counted in the numbers list.
Number 13 Skipped:
As we see year-after-year, the number 13 has been skipped over. The AMA does allow the rider who earns number 13 to skip the number, which places them at then next available number. This year, that choice was left up to Nate Thrasher, who had the highest total point haul of anyone who didn't already have a career number. By choosing to skip 13, he was bumped all the way to number 29.
---
Official 2023 AMA National Numbers
*Career Number
** New Career Number
*** Requesting Hold On Their Current Career Number (explanation in above intro)
#1 Eli Tomac – 450 SX
#1 Eli Tomac – 450 MX
#1 Jett Lawrence – 250 MX (Won't defend, moving to 450 in MX)
#1E Jett Lawrence – 250 East SX (Undecided on Coast for 2023)
#1W Christian Craig – 250 West SX (Won't defend, moving to 450 in SX)
#2 Cooper Webb*
#3 Eli Tomac*
#4 (Vacant)
#5 Ryan Dungey*
#6 Jeremy Martin*
#7 Aaron Plessinger*
#8 (Vacant)
#9 Adam Cianciarulo*
#10 Justin Brayton*
#11 Kyle Chisholm*
#12 Shane McElrath*
#13 (Vacant)
#14 Dylan Ferrandis*
#15 Dean Wilson*
#16 Zach Osborne***
#17 Joey Savatgy*
#18 Jett Lawrence*
#19 Justin Bogle*
#20 Broc Tickle***
#21 Jason Anderson*
#22 Chad Reed***
#23 Chase Sexton*
#24 RJ Hampshire*
#25 Marvin Musquin*
#26 Alex Martin*
#27 Malcolm Stewart*
#28 Christian Craig**
#29 Nate Thrasher
#30 Jo Shimoda*
#31 Michael Mosiman
#32 Justin Cooper*
#33 Pierce Brown
#34 Maximus Vohland
#35 Seth Hammaker
#36 Garrett Marchbanks
#37 Brandon Hartranft
#38 Jalek Swoll
#39 Vince Friese
#40 Stilez Robertson
#41 Derek Kelley
#42 Josh Varize
#43 Levi Kitchen
#44 Benny Bloss
#45 Colt Nichols***
#46 Justin Hill***
#47 Freddie Noren
#48 Cameron McAdoo
#49 Mitchell Oldenburg
#50 Marshal Weltin
#51 Justin Barcia*
#52 Carson Mumford
#53 Derek Drake
#54 Nick Romano
#55 Austin Forkner
#56 Enzo Lopes
#57 Chris Blose
#58 Jordan Smith
#59 Robbie Wageman
#60 Justin Starling
#61 Ryan Breece
#62 Jace Owen
#63 Max Anstie
#64 Carson Brown
#65 Antonio Cairoli
#66 Henry Miller
#67 Cullin Park
#68 Cade Clason
#69 Phil Nicoletti
#70 Justin Rodbell
#71 Preston Kilroy
#72 Matt LeBlanc
#73 Logan Karnow
#74 John Short
#75 Ryder DiFrancesco
#76 Nique Thury
#77 Ryan Surratt
#78 Grant Harlan
#79 Ty Masterpool
#80 Dylan Walsh
#81 Kevin Moranz
#82 Josh Gilbert
#83 Cole Thompson
#84 Mitchell Harrison
#85 Dillan Schwartz
#86 Josiah Natzke
#87 Chris Canning
#88 Guillem Farres
#89 Kaeden Amerine
#90 Tristan Lane
#91 Jarrett Frye
#92 Jeremy Hand
#93 Jerry Robin
#94 Ken Roczen*
#95 Lance Kobusch
#96 Hunter Lawrence*
#97 Devin Harriman
#98 Geran Stapelton
#99 Hardy Munoz
---
Projection Article
Editors note: Below are the points lists and projection article we originally published in the lead up to the list becoming official.
Here's the closest we can come to the 2023 AMA National Numbers list! Below you'll find two variations of the list. First up is the one we think is the closest to be correct with the #13 being skipped (AMA allows a ride who has earned #13 to deny it and move to the next available number). The second list has a racer in the #13 spot. Both lists have a total of five career numbers that we believe will be held for those riders in 2023. These are signified with a *** next to the name. The AMA does allow holds on a career number if the rider was unable to race due to injury or other unique circumstances. These five include Zach Osborne's #16, Broc Tickle's #20, Chad Reed's #22, Colt Nichols' #45, and Justin Hill's #46. At this point, we believe that the first four of those will be held. Only Justin Hill's is a question mark for us as of now.
Career numbers are granted to riders that finish top ten in combined points during a season and this year the only rider who's in the top ten combined but hasn't previously had a career number is Christian Craig. Meaning he's the only new pick for the year and he'll take on #28. Single digit numbers are only selectable by AMA National Champions. Meaning the 450 Supercross, 450 Pro Motocross, and 250 Pro Motocross champs can select single digits, while an AMA Regional Supercross Champ (250 West or 250 East) doesn't fall into that category. If Chase Sexton manages to unthrone Eli Tomac at the final round, he could pick a single digit but we suspect he will stay with the #23. Jett Lawrence had the option last year to take a single digit and is likely to earn that right again this year, but will forgo so to keep his #18.
At this point, the biggest question marks for us is if the #13 is taken and if Justin Hill reserves his number. A note for those creating their own lists, because the 250 West region runs one extra round over 250 East, the worst score from any 250 West riders that did all ten rounds is dropped from their total score.
Below you'll find the points total and below that the National Numbers list.
Projected Career Numbers if #13 Was Vacated
*Career Number
** New Career Number
*** Requesting Hold On Their Current Career Number (explanation in above intro)
#1 Champions Defending | Jett Lawrence 1E | Christian Craig 1W (will not defend) and Eli Tomac 1
#2 Cooper Webb*
#3 Eli Tomac*
#4 (Vacant)
#5 Ryan Dungey*
#6 Jeremy Martin*
#7 Aaron Plessinger*
#8 (Vacant)
#9 Adam Cianciarulo*
#10 Justin Brayton*
#11 Kyle Chisholm*
#12 Shane McElrath*
#13 (Vacant)
#14 Dylan Ferrandis*
#15 Dean Wilson*
#16 Zach Osborne***
#17 Joey Savatgy*
#18 Jett Lawrence*
#19 Justin Bogle*
#20 Broc Tickle***
#21 Jason Anderson*
#22 Chad Reed***
#23 Chase Sexton*
#24 RJ Hampshire*
#25 Marvin Musquin*
#26 Alex Martin*
#27 Malcolm Stewart*
#28 Christian Craig**
#29 Nate Thrasher
#30 Jo Shimoda*
#31 Michael Mosiman
#32 Justin Cooper*
#33 Pierce Brown
#34 Max Vohland
#35 Seth Hammaker
#36 Garrett Marchbanks
#37 Brandon Hartranft
#38 Jalek Swoll
#39 Vince Friese
#40 Stilez Robertson
#41 Derek Kelley
#42 Josh Varize
#43 Levi Kitchen
#44 Benny Bloss
#45 Colt Nichols***
#46 Justin Hill***
#47 Freddie Noren
#48 Cameron McAdoo
#49 Mitchell Oldenburg
#50 Marshal Weltin
#51 Justin Barcia*
#52 Carson Mumford
#53 Derek Drake
#54 Nick Romano
#55 Austin Forkner
#56 Enzo Lopes
#57 Chris Blose
#58 Jordan Smith
#59 Robbie Wageman
#60 Justin Starling
#61 Ryan Breece
#62 Jace Owen
#63 Max Anstie
#64 Carson Brown
#65 Antonio Cairoli
#66 Henry Miller
#67 Cullin Park
#68 Cade Clason
#69 Phil Nicoletti
#70 Justin Rodbell
#71 Preston Kilroy
#72 Matt LeBlanc
#73 Logan Karnow
#74 John Short
#75 Ryder DiFrancesco
#76 Nique Thury
#77 Ryan Surratt
#78 Grant Harlan
#79 Ty Masterpool
#80 Dylan Walsh
#81 Kevin Moranz
#82 Josh Gilbert
#83 Cole Thompson
#84 Mitchell Harrison
#85 Dillan Schwartz
#86 Josiah Natzke
#87 Chris Canning
#88 Guillem Farres
#89 Kaeden Amerine
#90 Tristan Lane
#91 Jarrett Frye
#92 Jeremy Hand
#93 Jerry Robin
#94 Ken Roczen*
#95 Lance Kobusch
#96 Hunter Lawrence*
#97 Devin Harriman
#98 Geran Stapelton
#99 Hardy Munoz
---
Projected Career Numbers if #13 Is Taken
* Career Number
** New Career Number
*** Requesting Hold On Their Current Career Number
#1 Defending Champions: Jett Lawrence 1E if he race East | Christian Craig 1W if he races West (will not defend) | Eli Tomac 1 in 450
#2 Cooper Webb*
#3 Eli Tomac*
#4 (Vacant)
#5 Ryan Dungey*
#6 Jeremy Martin*
#7 Aaron Plessinger*
#8 (Vacant)
#9 Adam Cianciarulo*
#10 Justin Brayton*
#11 Kyle Chisholm*
#12 Shane McElrath*
#13 Nate Thrasher
#14 Dylan Ferrandis*
#15 Dean Wilson*
#16 Zach Osborne***
#17 Joey Savatgy*
#18 Jett Lawrence*
#19 Justin Bogle*
#20 Broc Tickle***
#21 Jason Anderson*
#22 Chad Reed***
#23 Chase Sexton*
#24 RJ Hampshire*
#25 Marvin Musquin*
#26 Alex Martin*
#27 Malcolm Stewart*
#28 Christian Craig**
#29 Michael Mosiman
#30 Jo Shimoda*
#31 Pierce Brown
#32 Justin Cooper*
#33 Max Vohland
#34 Seth Hammaker
#35 Garrett Marchbanks
#36 Brandon Hartranft
#37 Jalek Swoll
#38 Vince Friese
#39 Stilez Robertson
#40 Derek Kelley
#41 Josh Varize
#42 Levi Kitchen
#43 Benny Bloss
#44 Freddie Noren
#45 Colt Nichols***
#46 Justin Hill***
#47 Cameron McAdoo
#48 Mitchell Oldenburg
#49 Marshal Weltin
#50 Carson Mumford
#51 Justin Barcia*
#52 Derek Drake
#53 Nick Romano
#54 Austin Forkner
#55 Enzo Lopes
#56 Chris Blose
#57 Jordan Smith
#58 Robbie Wageman
#59 Justin Starling
#60 Ryan Breece
#61 Jace Owen
#62 Max Anstie
#63 Carson Brown
#64 Antonio Cairoli
#65 Henry Miller
#66 Cullin Park
#67 Cade Clason
#68 Phil Nicoletti
#69 Justin Rodbell
#70 Preston Kilroy
#71 Matt LeBlanc
#72 Logan Karnow
#73 John Short
#74 Ryder DiFrancesco
#75 Nique Thury
#76 Ryan Surratt
#77 Grant Harlan
#78 Ty Masterpool
#79 Dylan Walsh
#80 Kevin Moranz
#81 Josh Gilbert
#82 Cole Thompson
#83 Mitchell Harrison
#84 Dillan Schwartz
#85 Josiah Natzke
#86 Chris Canning
#87 Guillem Farres
#88 Kaeden Amerine
#89 Tristan Lane
#90 Jarrett Frye
#91 Jeremy Hand
#92 Jerry Robin 
#93 Lance Kobusch
#94 Ken Roczen*
#95 Devin Harriman
#96 Hunter Lawrence*
#97 Geran Stapelton
#98 Hardy Munoz
#99 Brandon Ray
2023 KTM 300 SX sound check


2023 KTM 300 SX sound check YT: https://www.youtube.com/c/okrmoto?sub_confirmation=1 FB: https://fb.com/okrmoto …

source
Weege Show: 2024 Team Honda and Museum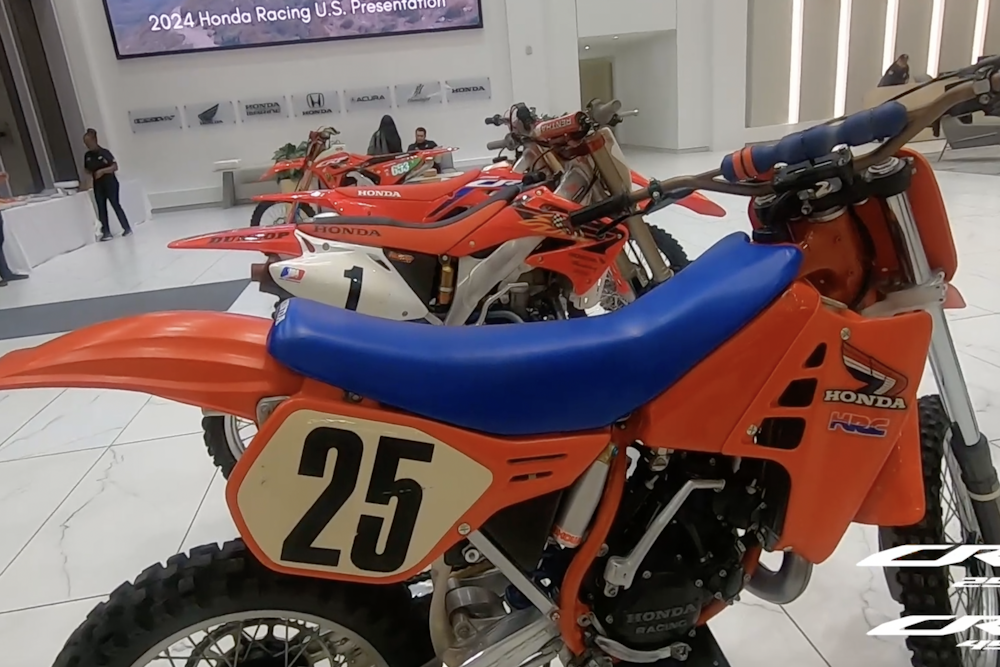 Jason Weigandt chats with Jett Lawrence, Hunter Lawrence, Chance Hymas and Jo Shimoda at the 2024 Team Honda HRC intro at the new Collection Hall, part of Honda's U.S. headquarters campus.



Source link
2023 KTM 890 Adventure R (RALLY STYLE)


2023 KTM 890 Adventure R (RALLY STYLE) Buy your motorcycle parts from AOMC.MX and support this channel at no extra cost …

source